Whether it's the turkey, eggnog or binge-watching holiday movies, the holidays can often leave us feeling a little bit sluggish. The good news is that all you really have to do to get out of the slump is to simply get outside. An outdoor adventure, whether big or small, is the perfect way to spend some quality time with the family.
Here are five great options for getting your family outdoors this holiday season. Make it your new holiday tradition!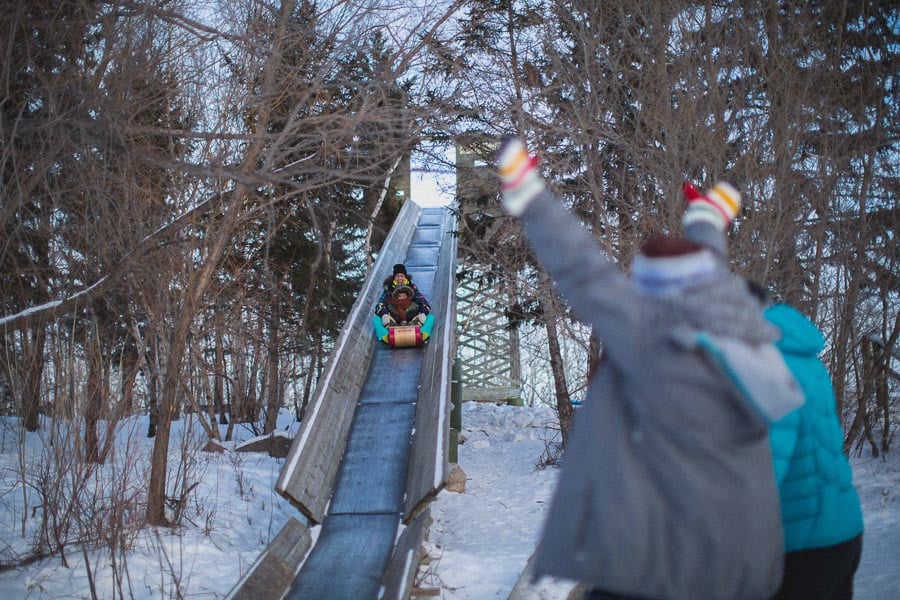 1. Drop in for some Frosty Family Fun
Drop in to FortWhyte Alive through the holiday season to get active outdoors with the whole family with our Frosty Family Fun series. Activities will take place from 12-2 pm, free with admission, and no need to pre-register.
Snowshoe and a Bonfire – Monday, December 26
Kubb on the Lake – Tuesday, December 27
Ice Fishing – Wednesday, December 28
Snowman Building – Thursday, December 29
Voyageur Games & Snow Taffy – Friday, December 30
Family Photo Hunt – Monday, January 2
Jam Pail Curling & Ice Bowling – Tuesday, January 3
Footprint Challenge – Wednesday, January 4
2. New Year's Eve (…outside)
A perfect way to start of a fun-filled New Year's Eve is with some energy-burning outdoor play. Get to FortWhyte to spend some time tobogganing on our exhilarating Richardson Rrrrun, or adventure through our trails for a scavenger hunt and see how many winter wonders you can find with a fun Winter Scavenger Hunt.
3. Explore on snowshoe
This is a great activity for the whole family, any day of the week. Simply rent snowshoes ($3/pair) and set out on the trail, or explore FortWhyte Alive by snowshoe with a guide — Snowshoe Club happens every Saturday starting in January.
4. Yoga for the whole family
Before you send everyone back to school, bring them out to FortWhyte Alive to spend a little time in nature and practice mindfulness. GROW Yoga is a fun yoga and mindfulness practice for little yogis aged 6-8, and 9-12 emphasizing kindness, gratitude and emotional awareness. For parents, we have the first Cabin Yoga session of 2017 happening on the same day!
From all of us here at FortWhyte Alive, Happy Holidays!