Image from the last controlled burn at FortWhyte Alive in 2015.
Controlled Burn Notice: FortWhyte Alive will be conducting a controlled burn on a 91-acre parcel of land adjacent to Sterling Lyon Boulevard between June 3 and June 14, 2019.
Update: Due to high winds, the burn has been postponed to Wednesday, June 12.
---
What Is A Control Burn?
Controlled burns are used as a management tool in native grasslands. Fire is a natural process that rejuvenates native prairie habitat, curbing weed growth and restoring an abundance of wildflowers and grasses.
---
Why Conduct A Controlled Burn 
As a grassland grows, thatch (accumulated dead material) builds up and reduces the resilience of the native grass community leaving the site more prone to weed invasion. A controlled burn is used to remove excessive thatch and helps keep the plant species on the prairie healthy and balanced.
Overall, when properly conducted, a controlled burn strengthens the prairie habitat, maintaining its ecological integrity.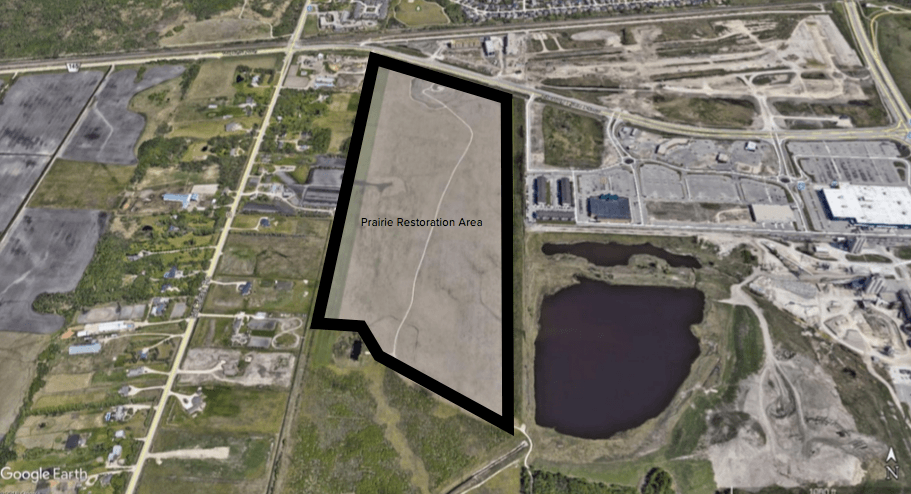 ---
Controlled Burn at FortWhyte Alive
FortWhyte Alive has contracted Native Plant Solutions to conduct a controlled burn on a 91-acre parcel of land adjacent to Sterling Lyon Boulevard. The experienced staff at Native Plant Solutions have been successfully conducting controlled burns at urban sites in Winnipeg for the past fifteen years.
A 'surround fire' technique will be used, and standard safety precautions involving controlled burns will be observed, including the use of 6 ft. mowed fireguards and a 'wet-line' fire-break around the burn area.
The burn will take approximately one day and will occur only during daylight hours Monday-Friday sometime between June 3 and June 14. As the burn is weather dependent, we will only know the day before or day of whether it will go ahead.
FortWhyte Alive will remain open the day of the burn; however, trail access to FortWhyte Alive will not be permitted from the north at Sterling Lyon or Bison Butte.
Homeowners, apartments and businesses along McCreary Road, on Sterling Lyon between McCreary and IKEA, and along Commercial Drive have been notified, and are advised to keep windows and doors closed during the burn.
---
Please direct any questions or concerns to:
Glen Koblun, Manager
Native Plant Solutions
(204) 953-8206
---
Funding for the controlled burn generously provided by Manitoba Habitat and Heritage Corporation - The Conservation Trust