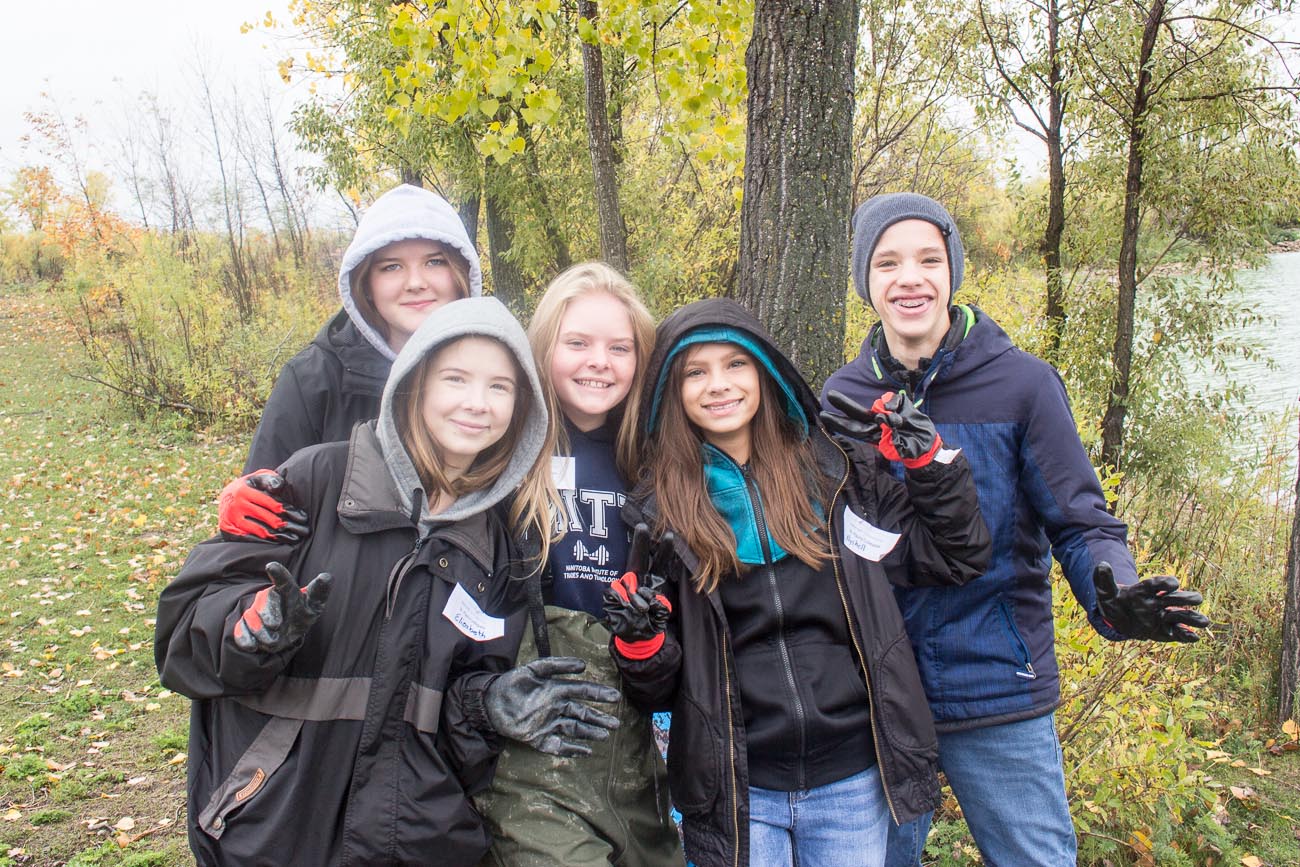 Are your students driven by experiential learning? Spark their inquiry by monitoring a local pond, creek or river near your school with Riverwatch.
Riverwatch is a unique way to engage your students in hands-on science. This outdoor program gives students the opportunity to learn about environmental science and water quality issues, while collecting water samples and completing water chemistry tests at your study site. All Riverwatch data is contributed to a public database.
FortWhyte Alive provides Riverwatch programming within Winnipeg for Grades 7-12 students. Rural teachers, please contact Kent Lewarne,email hidden; JavaScript is required, of South Central Eco Institute for information about Riverwatch sessions in your watershed.
---
Upcoming Teacher Training
Teachers booking a Riverwatch program are required to take a training workshop. This workshop will cover the basics of water monitoring, how to use the Riverwatch water monitoring equipment, and tips and tricks on working with students outdoors. All Manitoba teachers welcome. Dress for the outdoors!
Learn what FortWhyte Alive has to offer, including Riverwatch, a program that involves your students in monitoring water quality in local waterways.
Riverwatch Teacher Training
Wednesday, April 15, 2020 - Cancelled due to COVID-19
Virtual Training Resource
Questions?
Contact Katrina Froese, Education Program Coordinator
Email: email hidden; JavaScript is required or call 204-989-8355 ext. 203.
---
Book a Riverwatch Water Monitoring Program 
BOOK YOUR SPRING 2020 PROGRAM NOW!
Contact Katrina Froese, Education Program Coordinator with 3 date options to begin your booking process. Email: email hidden; JavaScript is required or call 204-989-8355 ext. 203.
FortWhyte Alive will assist you in choosing a safe sampling site, and meet you onsite to assist you in testing aquatic health using the Riverwatch Kit. Students will measure water transparency, complete water chemistry tests, and investigate aquatic invertebrates.
Teachers must attend one Riverwatch training session before booking a program.
Grade 7-12
Dates: September 9 - November 1, 2019, April 20-June 26, 2020
Program Fee: $175
Group Size: 4 - 25 students*
Length: 2 hours
* Custom group sizes or grade-levels available upon request.
FortWhyte Alive provides Riverwatch programming within Winnipeg. Rural teachers, please contact Kent Lewarne,email hidden; JavaScript is required, of South Central Eco Institute for information about Riverwatch sessions in your area.
---
Riverwatch Resources and Reports
Urban Riverwatch Manual and Sampling Protocols
Riverwatch Winnipeg Report with Student Data : Fall 2019
---
How It Works
1. Attend a professional development workshop. Teacher workshops will be provided twice annually at FortWhyte Alive. Schools must have a representative teacher attend a workshop before making a booking with a Riverwatch program.
2. Book your Riverwatch experience. Our Riverwatch Coordinator will assist you in choosing a monitoring site, and meet your group onsite to complete a monitoring session using the Riverwatch Kit full of scientific equipment. Students will measure water transparency, complete a variety of water chemistry tests, and investigate aquatic invertebrates and other biodiversity.
3. Get involved with other water related programming options. There are a number of ways to get involved depending on your level of experience, time commitment, student learning goals, and grade and course focus.
FortWhyte Alive School Programs: Expand the learning with a guided school program.
FortWhyte Alive Hands-On Science Days: FortWhyte brings in scientists and experts to lead a full day of educational, hands-on workshops for high school students throughout the year. Arctic Science Day in March, Dig It Soil Science Day in May, and Freshwater Ecology Day in September are great low-cost ways to connect your students with current knowledge and field research methods. Contact

email hidden; JavaScript is required

to be added to our mailing list.
Outdoor Educator: FortWhyte Alive's professional development workshops will help you become more comfortable with teaching outdoors, and can help you to take an outdoor classroom project to the next level.
Slow the Flow Leak Detector Challenge: This simple in-school water audit for all grades occurs in October and March. Students can check school facilities for drips and leaks, submit their findings to the school principal or maintenance, and receive water conservation themed prizes from FortWhyte Alive.
---
Weblinks
South Central Eco Institute: Kent Lewarne of Prairie Spirit School Division developed the Riverwatch program in Southern Manitoba's rural schools in collaboration with the Manitoba Conservation Districts. The SCEI Handbook is the source of the Winnipeg protocol. All Winnipeg data collected will be uploaded to the SCEI database to contribute to growing knowledge about water quality across Manitoba.
Lake Winnipeg Foundation: Citizen scientists have the opportunity to collect water samples for phosphorus testing in a professional lab. Students can contribute to a better scientific understanding on water quality in tributaries to the Red River & Lake Winnipeg. LWF also offers classroom visits and support for bus transportation to any water-related field trip through their Field Trip Program.
IISD- Experimental Lakes Area Education and Outreach:  IISD-ELA is one of the world's most influential freshwater research facilities, located in north-western Ontario. Book a free classroom presention or visit them to learn about the wide range of discoveries scientists are making about freshwater ecosystems.
Oak Hammock Marsh's River Watch Program
City of Winnipeg Water and Waste Department: Analytical Services Branch: Rivers and Small Streams Monitoring
Lake Winnipeg Basin Information Network
Lake Winnipeg Research Consortium: Lake Ecology Field Program Onboard MV Namao
Manitoba Eco-Network's Water Caucus
Canadian Geographic: OPEN Water
Manitoba Sustainable Development: Fisheries Branch: Stop Aquatic Invasive Species