Winter in Winnipeg is cold! This may be news or old hat to you, but it can be daunting to think about three more months of that biting windchill. Maybe you are tempted to hide inside (and go stir-crazy) but lucky for you, here at FortWhyte we know how to best embrace the chill and live it up! This winter make it a goal to spend a decent amount of time outdoors – we promise it will be worth it, both mentally and physically.
Here are five great winter adventures for you to try in order to break out of hibernation mode: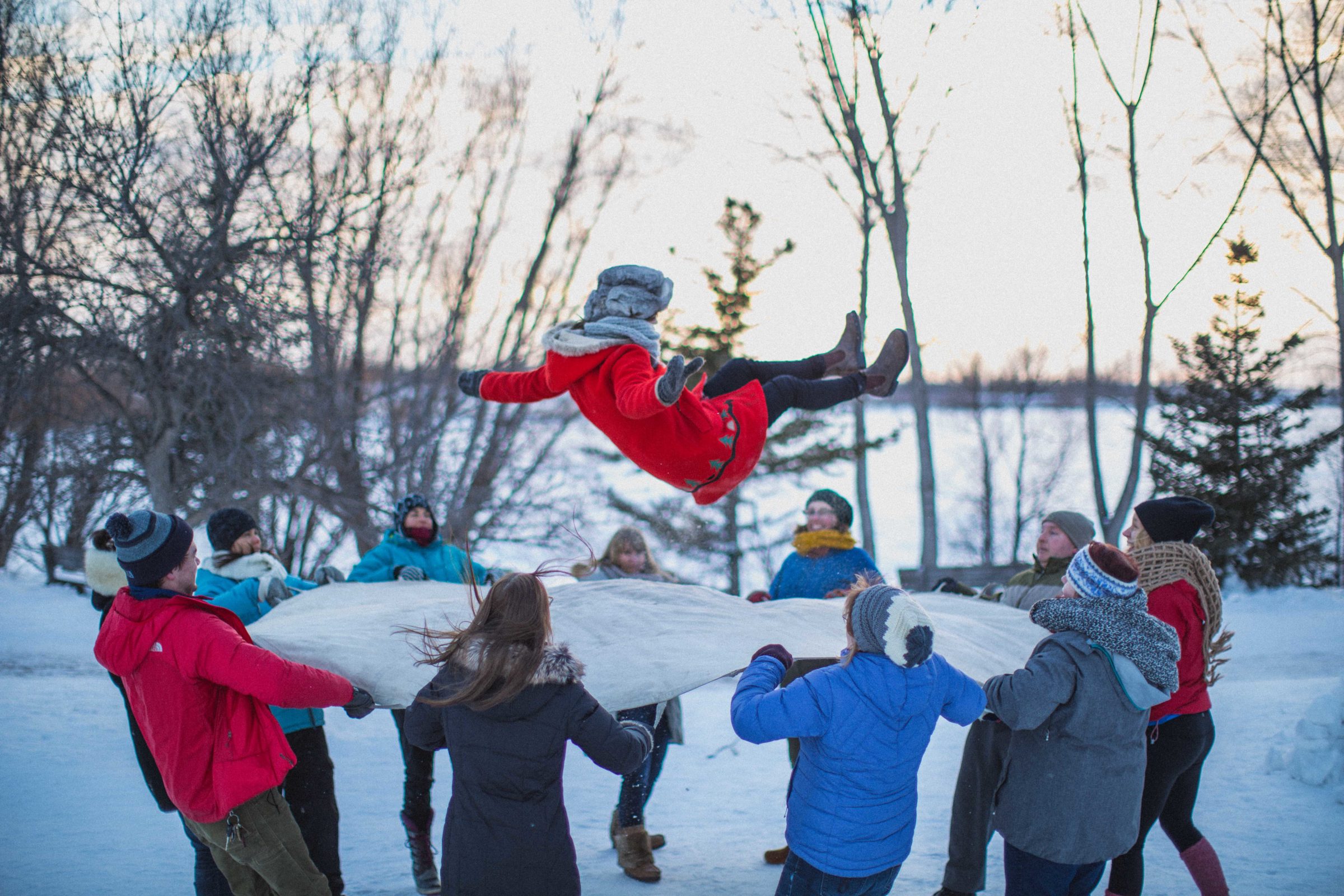 1. Drop in for some Frosty Family Fun
Get bundled up for a great afternoon of fun! Frosty Family Fun Days at FortWhyte offer an opportunity to get active, try a new treat and/or play! Click here for more info. Activities run from 1 – 3 pm on each date.
Snowshoe Orienteering – Tuesday, December 26
Voyageur Games & Snow Taffy – Wednesday, December 27
Marshmallow Roast – Thursday, December 28
Kubb on the Lake – Friday, December 29
New Years Craft – Monday, January 1
Jam Pail Curling & Ice Bowling – Tuesday, January 2
Ice Fishing – Wednesday, January 3
Family Photo Hunt – Thursday, January 4
Footprint Challenge – Friday, January 5
2. Come for story reading by the fire
On January 14 and February 25 come to FortWhyte Alive for a special treat, but only if you don't mind being enchanted! One of our resident storytellers will be sitting by a cozy fire (and sharing a marshmallow or two) as he takes you on a magical journey. Click here to learn more.
3. Enjoy ice fishing on our frozen lakes
Did you know that we have stocked lakes on which you are welcome to try your hand at fishing? Feel free to bring a shelter if you like, or set up some lawn chairs, lean back with a hot coffee and enjoy the crisp, fresh air.
Don't know the difference between an auger and a sauger? Join our fishing expert on January 20 from 1-3pm to learn some basics!
4. Snowshoe through snow-covered forests
Strap on snowshoes and come join us for a moonlight hike as we search for animal tracks and owls in our snow-covered forests. We'll end the night warming up with a bonfire and hot chocolate in the forest.
5. Attend Wine and Skis
More interested in indoor activities? Let us try to tempt you into enjoying the outdoors with an evening that blends our two favourite things – socializing and adventuring! Half the evening will feature a wine & cheese tasting event, followed by a delightful moonlit ski or a guided snowshoe hike. The perfect pairing of backwoods and brie! Tickets available on February 1 – stay tuned to our website for more information! Click here for the recap of last year's event.
---
For information on how to dress properly to stay warm and dry while enjoying our winter weather, check out our How to Dress for Winter video.
---