Meet Mavis, a FortWhyte volunteer who helps children connect with nature through our Forest School Program.
After a career in Early Childhood education and teaching on the topic at Red River College, joining Forest School was a natural fit. 
Why do you think Forest School is important?
It lays the foundation for children to learn at the preschool age, and it develops a sense of awe and wonder for the natural world. Although my own children weren't in Forest School growing up, I had them spend a lot of time outdoors as kids and I see the lifelong benefits it has given them based on the choices they make and careers they've chosen.
What's been the biggest difference between teaching adults at Red River College and children at Forest School?
Before I would learn mostly through reading textbooks and was doing all the teaching for the students. Now, I'm always learning from the children at Forest School.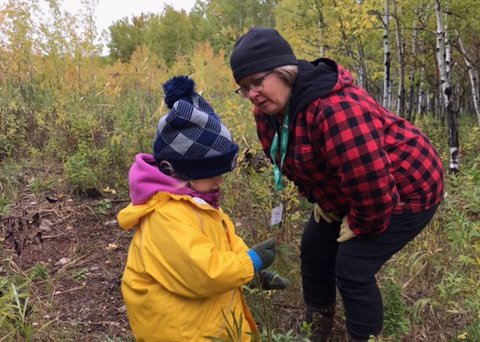 Do you have a favourite memory from Forest School?
Last winter we had a beautiful situation. We were walking in the forest and Hunter, one of the students, was pointing out deer beds to the other children and teaching them about it. Then he began to gather sticks to pretend to build a fire, which sparked a conversation for the whole group and eventually led into building a real fire. 
It's a direct example of Forest School's philosophy of child-led and child-inspired learning.
Thank you
From all of us, thank you Mavis for your commitment and motivation to create change in our community. Your dedication to the Forest School program will help children build a connection with nature.
Head to fortwhyte.org/volunteering to learn more and apply today.