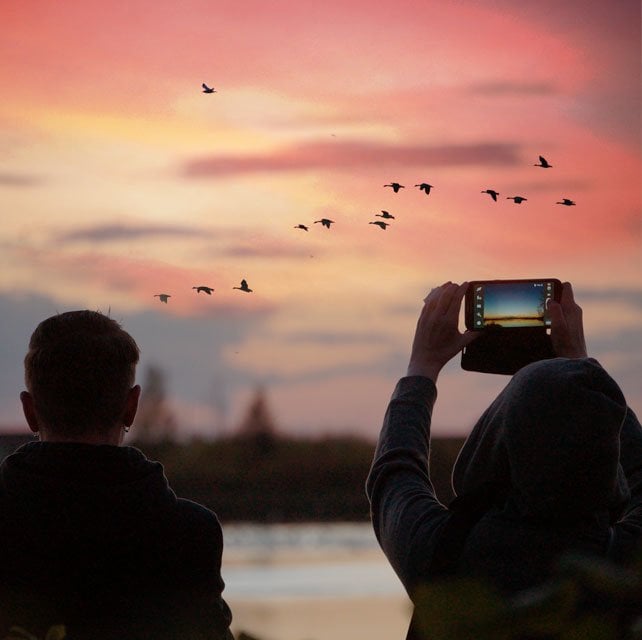 We're not ready for summer to be over yet.
Luckily, fall brings new delights for all the senses at FortWhyte Alive. Enjoy a crisp morning bike ride or take in an awe-inspiring sunset during migration season. 
Take a peek at our Fall Program Guide or our online events calendar to make the most of the season.
Not sure where to start? Check out our top picks for the fall season at FortWhyte Alive.
---
Wednesday, September 4   7 - 9 am
Wednesday, September 11   7:30 - 9:30 am
Take in the sights and sounds of one of Manitoba's premiere birding destinations.
Join our experienced birding guides for a sunrise hike suited to beginners and experts alike. Afterwards, compare checklists over a light continental breakfast in the Buffalo Stone Cafe. Registration required.
---
Wednesday - Sunday, September 18 to October 20

Reconnect with nature and watch the sky come to life.

Every fall, thousands of geese land after sunset in this breathtaking autumn ritual. Learn about the great migration, gather around a toasty bonfire to roast bannock, make s'mores - or grab a bite at the concession paired with a beer or a glass of wine. 
---
Thursdays in September   1:30 pm
Venture inside FortWhyte Alive's bison prairie for an up-close encounter you've got to see to believe.
See North America's largest land mammal from just meters away, interacting in their natural habitat. Go on an adventure into our prairie past, and leave knowing more about how bison have shaped Canada's history. 
---
Saturday, September 28  11 am - 3 pm
Suzan Kiernicki Photography will be on site to capture you and yours with a vibrant and colourful fall forest backdrop. Spend some time between the trees and experience how gorgeous a FortWhyte fall day can be.
---
Tuesdays, Until October 8  12 - 5 pm
Sundays, Until October 6  12 - 4 pm

At FortWhyte Farms, we grow food with heart — and with our environment and community in mind.

Visit The Market this summer to shop for seasonal produce, farm fresh eggs, ready-to-go meals, baking, honey and more. Your purchases support an essential social enterprise providing first jobs for youth.
---
Thursday, October 24   7 pm
Costumes encouraged!
Survive this spooky sprint and be rewarded with free smokies and s'mores around a warm bonfire. Cash bar. All funds raised from The Frightening Fiver support environmental education at FortWhyte Alive.
---
Wanting more? Get the full Fall Program Guide and make the most of the season.